retourner
22-septembre-2021
[EN] Motofil at Global Industrie World Fair aiming for the French market
Salon, Industrie
[EN] Between the 6th and 9th of September, Motofil was once again at the Global Industrie (Lyon, France), presenting its latest robotic welding solutions throughout Eurpe, with special focus on the French market.
After a one-year break, due to impositions of the pandemic, the Global Industrie, Global Industry Fair, was held again between the 6th and 9th of September, in the French city of Lyon. This tenth edition took place at the EurExpo pavilion, with the backing of the President Emmanuel Macron, and aimed to value the Gallic industry, follow the current market trends and to show the top solutions in all Europe.
Motofil, together with over 70 national companies, represented Portugal at EuroExpo, the congress center in Lyon. In Pavilion 6, specifically at Stand G40, hundreds of people had the opportunity to get to know Motofil's latest robotic welding equipment: 3-Axis H-Table Positioner w/ Central Robot, a compact solution prepared for different types of welding (MIG/TIG). It has a single workstation for ease of operation and shorter work cycles. While the welding robot works on one side, the operator can be loading and unloading parts on the other, all in a more compact area.
Butterfly, also presented at Global Industrie, is a MIG/MAG welding cell for small parts and short work cycles, with high production volume. It is characterized for being a cell with two work areas and easy to handle, and for having a unique structure that guarantees rigidity and the protection of all elements. Both machines were developed to optimize the production of several industries (automotive, agricultural, metal furniture production, bicycle production, etc.)
Motofil pleasantly had on its stand lots of visitors, including the Deputy Secretary of State and for the Economy, João Neves, the Chief of Staff of the Secretary of State for the Economy, Eduardo Augusto, and Rafael Campos Pereira, Executive Vice President of AIMMAP - Association of Metallurgical, Metalworking and Related Industries of Portugal.
According to Paulo Monteiro, Motofil's Commercial Manager in Europe, it was a pleasure to be back at Global Industrie after a year of interruption, due to Covid-19. "We made very interesting contacts with French clients, in terms of quantity and quality. This confirms the interest of the French market in this type of solutions and our growth in this market. Many thanks to everyone who came to our stand. See you in Paris next year!" he commented.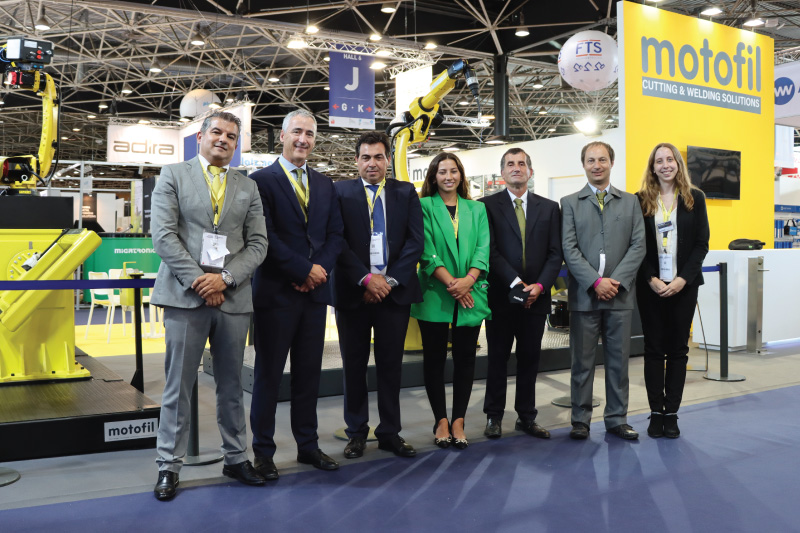 / MOTOFIL's team at the stand