retourner
13-mai-2019
[EN] Motofil with a strong representation on trade shows in Brazil and Mexico
Salons, Fabetch, Expomafe
Motofil had a great start in May, participating simultaneously in two international trade shows in Latin America: EXPOMAFE in São Paulo (Brazil), from 7 to 11 of May, and FABTECH Mexico in Monterrey, from 7 to 9 of May.
For several years now, Motofil has assumed internationalization has one of its main goals. In the first months of 2019, the exportation rate of Motofil equipment already surpassed 50%, and is likely to increase until the end of the present year, given Motofil's investment on different international trade shows which play an important role regarding its market share's increase.
EXPOMAFE – Brazil International Machine Tool and Industrial Automation Exhibition is a biennial trade show in São Paulo, which is considered one of the greatest industry's events in South America, registering a participation of 55.000 visitors in 2019's edition. For the first time in a Brazilian trade show, Motofil exhibited a 2D fiber laser cutting machine – MFL315. "The exhibition of our equipment during this trade show was important to place Motofil's brand in the Brazilian market for cutting machines", states César Borges, Motofil Brasil's sales representative, specialized in cutting technology.
José Ribeiro, Motofil Brasil's Manager, denoted an increase on the visitor's purchase intention which led him to believe that "once all Brazilian Social Welfare Reform approval's backlogs are solved and a consequent social, political and economical stability is assured, the market will react positively, bringing several investments". José Ribeiro concludes that "the contacts established on this trade show, in terms of quantity and quality, will prospect on a short to medium term improvement of several industries, particularly road and agricultural equipment".
Motofil had also a successful participation on Weldmex in Monterrey (Mexico). This trade show is integrated on Fabtech Mexico, which rotates annually between Mexico City and Monterrey, and it's visited by an average of 13,000 visitors. Motofil exhibited a 4 meters Monoblock, whose adaptability is already known on the Mexican market by several industries. Ramiro Pereira, Commercial Representative of Motofil Mexico, foresees in this trade show "the opportunity for Motofil to demonstrate its solutions' diversity for the different activity sectors and response capacity to clients' needs. Motofil brand has gain more prominence on the Mexican market and its presence on this trade show is crucial for the increase in turnover".
To finish this semester in terms of international trade shows, Motofil wil be in Bilbao (Spain) for Subcontratación, that will occur from 4 to 6 of June at BEC (Bilbao Exhibition Centre).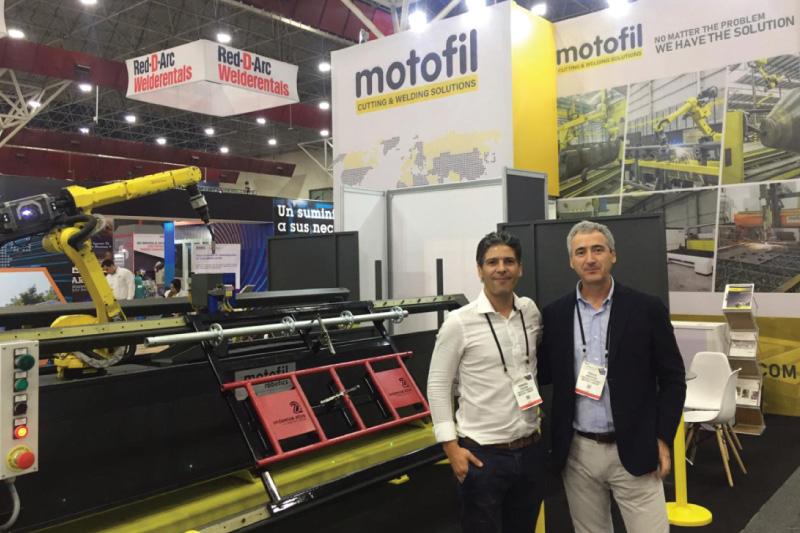 / Commercial team at Weldmex 2019 with a 4m Monoblock