retourner
30-septembre-2019
[EN] MOTOFIL attended the inaugural edition of Mindtech
Salons, Mindtech
Always up to new challenges and confident in the growing interest of the Spanish market in automated solutions, Motofil was present at the first edition of the Mindtech trade show, held in Vigo, between 10th and 12th of September.
After being in Bilbao, where the company attended Subcontratación and WindEurope, Motofil headed to Vigo to participate in Mindtech, a tradeshow organized by Asime - Asociación de Industriales Metallurgico de Galicia - whose main objective is to become a meeting point between the industrial Iberian Pole and the leading companies in the metallurgical and technology sector, both nationally and internationally.
With a 128sqm stand (one of the largest in the event), Motofil highlighted its 2D fiber laser cutting machine - the MFL 315. This is the second time Motofil has bet on the presence of MFL in a tradeshow in this market, which shows the intention of the company in becoming a reference in laser cutting in the Iberian market. In addition to this equipment, Motofil also presented a jig and welding robot, an butt welding press and samples of its welding wire - Motomig.
Almost in the beginning of the event, Motofil was honored to receive a visit from President of the Regional Government of Galicia, Alberto Núñez Feijóo, and the Mayor of Vigo, Abel Caballero, who congratulated the company for having one of the most representative stands in the whole tradeshow.
Carlos de la Hoz, sales representative of Motofil Ibérica, states that this event was important for "a closer approach to the Galician market, which is a market that has been showing a lot of potential." The presence of the laser cutting machine at Mindtech also proved to be a good bet as it "allowed interested parties to see the quality of the equipment and many were surprised by the technical details of the machine. Most of the questions we received during the tradeshow focused mainly on this technology, but as the conversation progressed, robotics solutions were also consulted, as these technologies go hand in hand."
For its first edition, Mindtech presented a modest movement but with specialized visitors. Motofil ended the show with the sale of an butt welding press, which went straight to the client's house. Paulo Silva, sales representative of Motofil, is confident that "our team will have to return to Spain to install another machine as a result of our participation in the event."
To finish the tradeshow circuit in Spain, Motofil will be present at Metalmadrid, at IFEMA, on November 27th and 28th, stand 7F22.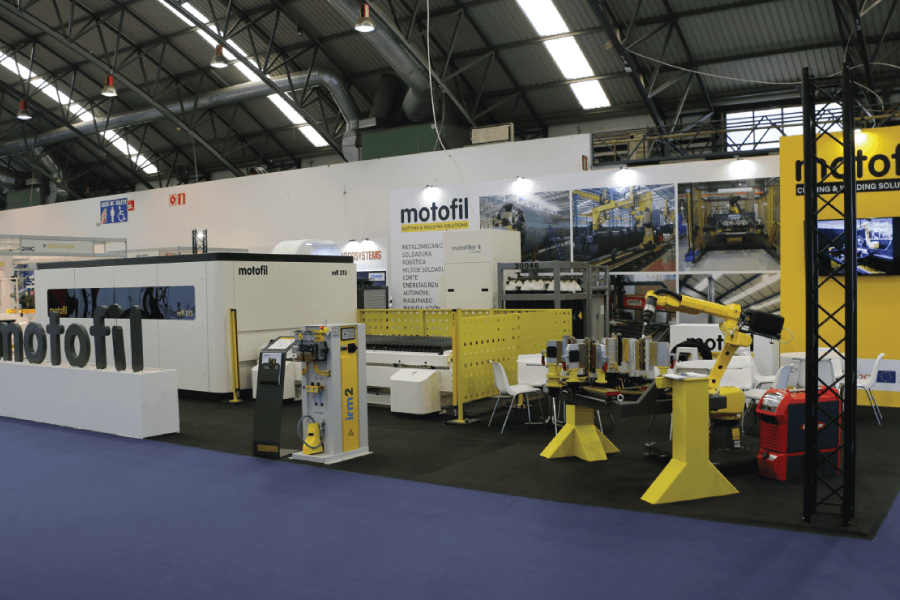 / Motofil's stand @ Mindtech 2019